Chelsea Flower show is an excellent early barometer of the key styles and trends for the season ahead. Here's our concise summary of what you should know.
A number of fashion trends stood out at this year's RHS Chelsea Flower Show including statement printed floral maxi dresses as seen here on Arit Anderson and Princess Beatrice, relaxed tailoring worn here by Amanda Holden and solid colour dresses like Ridley London's white broderie anglaise Isla dress worn here by influencer Laura-Ann Barr @all.thats.pretty
Every year, bar a pandemic, the Royal Horticultural Society treats us to award-winning landscape architecture, creative floral displays and new bloom varieties at the RHS Chelsea Flower Show. Equally as captivating are the style choices on display from the Royals, celebrities, influencers and public in attendance. As the first event of the summer social season, the Chelsea Flower Show gives us more than a sartorial hint of what to expect at forthcoming daytime events and serves as a useful guide for the fashion trends that are likely to be most widely adopted for this season's key events as well for at weddings and other special occasions. Here's our summary of the trends we noticed
1. Statement floral dresses
Floral dresses are almost as much a part of Chelsea Flower as the flowers themselves, so it was no surprise that this year's show featured a parade of printed floral statement dresses in a symphony of eye-catching colours from head to toe. Floral designs ranged from ditzy to larger blooms, and multi-coloured to simpler two tone creations. On the whole dress styles were relaxed, with versatile shirt dresses proving particular popular. 
As ever, the Queen was in attendance, this year arriving in a royal buggy resplendent in a tailored bright pink coat over a silk floral dress and white gloves. Princess Beatrice wore a blue and white toile floral midi dress with black strappy heels and a black basket bag, reminding us it's often best not to match our accessories exactly to our dress. Not to be outdone, the BBC presenters proved they'd got the memo wearing vibrant and playful floral dresses with Arit Anderson looking beautiful in Ridley London's turquoise and red edith cotton shirt dress with ruffled cap sleeves and Rachel de Thame wore Ridley's floral Sadie dress in silk crepe de chine. Determined not to disappoint Tom @Drag Queen_Gardener chose a statement off the shoulder made to measure silk floral maxi dress from Ridley London in a new fabric collaboration that raises much needed funds and awareness to help save the British Bumblebee. Read More. Mylene Klass wore a floral maxi with a collage of large and ditzy blooms on navy. Gemma Collins remained true to herself wearing a bold lemon and pink floral maxi dress accented with a pink handbag, sandals and sunglasses. 
(Clockwise from top left) Broadcaster Gaby Roslin teams her statement floral maxi dress with a structured pink coat and white trainers. Myleene Klass opts for an on-trend statement floral printed silk maxi dress with a belt tie waist. Presenter and garden designer Arit Anderson pictured here with DJ and broadcaster Jo Wiley in a Ridley London printed floral Lola shirt dress. And influencer @seenonsarah in a statement Ridley London printed floral Tam maxi dress
2. Revealing cuts and maxi length
It was no surprise that elongating maxi dresses, that featured in so many of this season's catwalks were an extremely popular choice. We also noticed quite a few v-necks and scoop necklines, subtly hinting towards this season's trend of exposing flesh. Silhouettes were cinched at the waist and belted to add shape and accentuate the female form, although we also noticed a few shift and swing dresses for an altogether more relaxed look.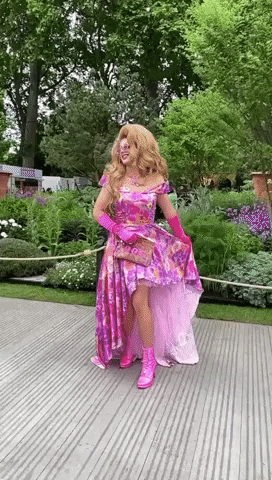 (Clockwise from top left) Princess Beatrice visited Chelsea Flower Show with her husband in an on-trend statement printed floral maxi dress and a simple black tote bag and matching shoes. Meanwhile actress Joan Collins opted for a luxurious floral silk dress and a structured white jacket. The queen arrives at Chelsea in her golf buggy wearing a long pink coat over a printed floral silk dress. (Bottom) Tom @dragqueen_ gardener wore a made to measure statement Ridley London maxi dress featuring a new floral print designed in collaboration with the Bumblebee Conservation Trust
3. Statement summer solids
This season's ubiquitous catwalk trend for colour blocking, dressing head to toe in one solid shade, was much in evidence throughout the week at Chelsea Flower Show, to us highlighting the importance of this trend. Careful curation of spring colours in rich fabrics and tailored cuts was a common theme. Sophie Wessex arrived in a rose silk twill trouser suit with a double-breasted blazer looking effortlessly chic and Zoe Ball was a stand out in a bright pink trouser suit with a more relaxed fit and trainers, proving tailored suiting paired with casual footwear is an enduring trend. Joanna Lumley's knew the assignment wearing a relaxed trouser suit in cerulean blue with white trainers. Influencer Laura Ann of @all.thats.pretty paired a silver Alice band and white sling-backs with our popular and relaxed Isla dress in white broderie anglaise cotton, turning heads as she walked the concourse prosecco in hand. When opting for solids its key to choose the spring shade that will really flatter your natural colouring and complexion. We have a whole spectrum of solid colours in our collection this season ranging from bold yellows, tomato reds and vivid pinks to more muted Navy and subtle pastel shades. Any of our dresses, tops or skirts can be made to order in any of our solids and our Ridley stylists are on hand to advise on which shade will flatter you the most.
(Clockwise from top left) Tom @dreagqueen_gardner in his statement printed floral silk maxi dress pictured here with BBC Chelsea flower show presenter in an on-trend bright yellow shirt dress. Influencer Laura-Ann Barr @all.thats.pretty pictured here in a white broderie anglaise Ridley London Isla Dress with cook, food writer and presenter Mary Berry wearing a printed floral shirt dress. Rachel de Thame is pictured here presenting BBC RHS Chelsea Flower Show coverage in her relaxed printed floral Ridley London Sadie swing dress. BBC Chelsea Flower Show presenters Jo Swift and Sophie Raworth is pictured here in an on trend bright broderie anglaise dress
4. Relaxed trouser Suits with t-shirts and trainers
This season's trend for tailoring saw a host of more structured and fitted garments with lapels, darting and pleating. Leading this trend were relaxed trouser suits in both solid spring shades as worn by Zoe Ball, Joanna Lumley and the Countess of Wessex as well as some statement floral print examples, as worn by Amanda Holden or subtle stripes. The tailoring trend has featured widely across the catwalks and this season's fashion press, and certainly brings a sophisticated urban feel to Chelsea. But as temperatures heat up and dress codes call for something a little more refined, I wonder how many relaxed cut trouser suit t-shirt and trainer combinations will see at weddings, the Royal enclosure or summer holiday nights out?
5. Jackets over dresses
The ultimate versatile tailoring trend of wearing a structured jacket over a floaty summer dress has also featured widely across the catwalks and this season's fashion press, and was definitely popular at Chelsea Flower Show as it offers the wearer a multitude of looks and styling opportunities and as the season progresses and temperatures heat up, we predict this trend will become increasingly popular. Gabby Roslyn was spotted in a diaphanous floral maxi with white trainers while Strictly's Shirley Ballas wore a cream fitted jacket over a watercolour large floral maxi dress with a high neckline. The short, fitted jacket served to accent the dress with the contrasting cut along with the practical benefits of English summer.
Tailoring featured widely at this years Chelsea Flower Show in a variety of relaxed styles, on-trend solid summer colours and bold floral prints (clockwise from top left) broadcasters Amanda Holden, Zoe Ball Joanna Lumley, and the Countess of Wessex pictured with her husband
6. Accessories - less is definitely more
The rules of the game have changed, and this summer accessories are small and subtle. Gone is the huge designer handbag and hair accessories are scaled back and often in black so as not to take away from the spray of bright florals in a dress or skirt. White trainers continue to trend, offering both comfort and a casual look to marry with tailored suiting and draping. This year, attendees opted for more natural looks with minimal makeup, there was a noticeable absence of hats. Jewellery was subtle and low key, which puts the focus on the dress without distraction. This is also no doubt a reflection of our troubling times. With a cost of living crisis in full swing, no-one wants to be seen to be flaunting wealth conspicuously. 
Ridley London's new collection of made to measure statement dresses is available to purchase online and in Ridley's Barnes store. Celebrate your individuality this season with a unique piece that's individually crafted to flatter from your choice of any of our stunning new printed floral or solid silks or cottons. Or call us to arrange a virtual fitting: 
Ridley London, 82 Church Road, Barnes, London SW13 0DQ T: 01730 823097